Our Senior Management Team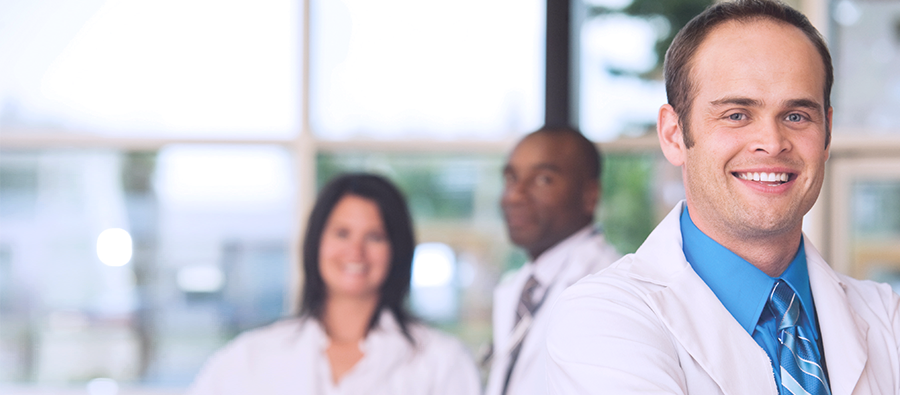 Craig Jesiolowski, FACHE, Hospital President
Craig Jesiolowski began his role as President of Holy Family Hospital in October 2016 after serving for seven years as President of Saint Anne's Hospital, a Steward Health Care sister hospital in Fall River, Massachusetts.

Craig has 27 years of experience in health care, including serving as Chief Executive Officer of White County Hospital in Carmi, Il and Gibson Area Hospital in Gibson City, IL. He also served as Regional Vice President of the Quorum Health Resources New England Group, overseeing eight hospitals in four states.
Craig earned his undergraduate degree in Biology at University of Illinois, and his Masters of Healthcare Administration at Washington University School of
Medicine in St. Louis, Missouri.
Christine M. Basil, MSN, RN, Vice President, Chief Nursing Officer
Christine M. Basil, MSN, RN is Vice President and Chief Nursing Officer at Holy Family Hospital.
Christine comes to Holy Family Hospital with over 16 
years of experience and an extensive clinical background in nursing, nursing education, and leadership. 
Her career began in the Emergency Department at New Britain General Hospital in New Britain, Connecticut. She later accepted the role of Clinical Manager, and eventually relocated to Massachusetts. Her relocation led her to working in two Central Massachusetts Emergency Departments, and employment as Clinical Faculty at the Massachusetts College of Pharmacy and Mount Wachusett Community College.

In 2007, Christine joined Heywood Hospital in Gardner, MA as Director of Education and Professional Practice. In 2012, she was promoted to Director of Acute Care Services and Case Managemant.
Christine earned her Bachelor's Degree in the Science of Nursing from Fairfield University, her   Master's Degree in the Science of Nursing from University of Hartford, and her Case Management Certification from University of Indiana.  
Christine most recently served as vice president and chief nursing officer at Nashoba Valley Medical Center, a Steward Health Care sister hospital in Ayer, MA, where she led her teams in robust process improvement and excellence in nursing practice.
John Alexander, MD, FACEP, Chief Medical Officer, Vice President, Medical Affairs, Quality and Safety
As the Chief Medical Officer and Vice President of Medical Affairs, Quality and Safety for Holy Family Hospital, Dr. John Alexander is responsible for further advancing the quality of care and services that the medical staff provides to the community.
Dr. Alexander earned a master's degree in health care management from Harvard School of Public Health and his doctorate degree in medicine from University of Massachusetts Medical School.
Previously, he served as the leader of integrated medicine at York Hospital in Maine where he was instrumental in developing a care transitions program to support patient recovery and continued progress through the collaborative efforts of physician practices, social work and case management. He has also led process improvement initiatives to enhance patient access, continuity of care, and the overall experience from physician through hospital care and into recovery. These efforts have also included a focused adoption of advanced technology for integrated care.  
Marcella Rivard, MBA, CPA, Vice President, Chief Financial Officer
Marcella Rivard, MBA, CPA is Vice President and Chief Financial Officer at Holy Family Hospital.  
A certified public accountant with a master's degree in business administration, she has over 30 years of experience in health care finance, 25 of which are in Massachusetts health care. 
She most recently served as chief financial officer for the Department of 
Medicine, Harvard Medical Faculty Practice, Beth Israel Deaconess Medical Center, in Boston.
She has a wealth of experience in transactional accounting, strategic financial planning and forecasting, and has a record of success within complex tertiary and community health systems. Her strengths include service line analysis, business planning for new programs, and physician relations.
Wayne Dodwell, FACHE, Vice President Strategic and Business Development
Wayne T. Dodwell comes to Holy Family Hospital after serving as vice president of strategic and business development at Saint Anne's Hospital, a Steward Health Care sister hospital in Fall River, Massachusetts. Wayne previously served as business development director for Saint Anne's and Norwood hospitals, and brings more than 30 years of health care administrative experience to his position.
His career experience includes work in community hospitals, as well as large academic medical centers in physician practice and hospital operations management.
During his career, he has held a number of progressively responsible management positions,
including department director, vice president and CEO positions. A graduate of the University of
Massachusetts in Amherst, he holds a Bachelor's Degree in medical technology and a Master's
Degree in health services administration. Wayne is also a fellow of the American College of
Healthcare Executives
Paul C. Smith, Vice President Operations, Site Administrator Holy Family Hospital-Haverhill
Paul C. Smith comes to Holy Family Hospital with over 12 years of experience in healthcare administration. 
Paul has been with Steward Health Care for the last two years, working for Steward Medical Group at St. Elizabeth's Medical Center, a Steward sister Hospital in Brighton, MA. As Senior Director of Surgical Services, he helped lead operations and business development in Surgery and Orthopedics, and worked closely with physicians, nurses, and support staff.  
Prior to his work with Steward, Paul spent ten years at Cambridge Health Alliance, a safety net system north of Boston, where he had leadership roles across a number of service lines, including Surgery, Orthopedics, and Anesthesia.  Paul and his family have lived in Methuen for many years and have deep roots in the Merrimack Valley. He received his undergraduate degree in Computer Science from Saint Anselm College in New Hampshire and his graduate degree in Healthcare Management from University of Massachusetts-Lowell.